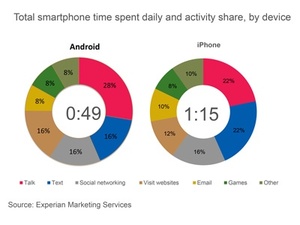 According to a new report from Experian, iPhone users spend more time on their phone than
Android
users.
Usage data shows that
Apple
fans spend 26 more minutes per day on their iPhones than Android smartphone users do.
On average, Android users spend 49 minutes per day, while iPhone users spend an hour and 15.
Breaking down
the phone usage
, Android users spend 28 percent of their time on phone calls compared to just 22 percent for iPhone users. Apple users make up for that time by spending 22 percent of their time texting, compared to 16 percent for Android.
Android users browse the Web more often and both spend an equal amount of time on social networking sites or apps.