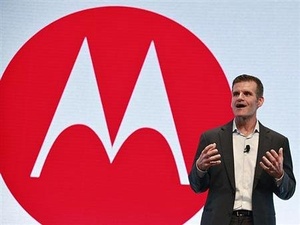 Motorola
Mobility CEO Dennis Woodside has finally confirmed the existence of the Moto X, a high-end smartphone that has been under development for a year.
Notably, the smartphone will be built in
Fort
Worth, Texas, unlike most smartphones and electronics which are built overseas.
Motorola has long fallen behind in the smartphone market to rivals like
Samsung
, but Woodside says the company will be relaunching their entire product line in the next quarter. "We're turning the corner," Woodside
added
.
The company will also narrow their focus to just a handful of devices, instead of a full lineup of over a dozen like they have now.
Woodside noted that the Texas factory will employee 2000 Americans before August.
In terms of specs and details, they were scant except to say they will have "advanced sensors and will be 'contextually aware' of what's going on around it."