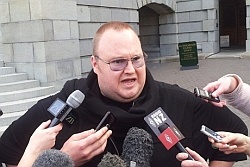 A New Zealand court has ordered that the FBI and police must return Kim Dotcom's personal data that was seized during the raid of Megaupload last year.
Additionally, they must specify all information that is at the core of their case against the file sharing service that once accounted for a large share of the world's Internet traffic at any given time.
High Court Justice Helen Winkelmann
ruled again
that the raid of Dotcom's mansion was illegal since they did not have proper warrants. The police and FBI must now return any digital data that is not relevant to the case.
Furthermore, the Justice ordered the FBI to destroy all clones they have of Megaupload's hard drives that contain personal information or other none relevant information to the case.
Dotcom and the rest of the defendants must be given copies of the hard drives and information that will be used in the case against them.
It is unclear if users will get their personal data back, but it seems to be a step in the right direction.