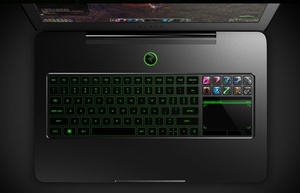 Yesterday,
Razer
unveiled their "
Blade
" notebook, a device they claim is the 'world's thinning gaming laptop.'
The notebook is just 0.66-inches thick, and the company says it offers
"more power-per-cubic-inch than any other laptop in the world."
Under the hood is a 4th generation
Intel
Core processor (Haswell), a new NVIDIA GeForce GTX 756M
GPU
, 8GB of 16000 Mhz DDR3L memory and 128GB SSD storage in its base model. The device runs on 64-bit Windows 8. Despite being thin it is not too light, at 4.135 pounds.
"We've designed and built the thinnest, most powerful 14-inch laptop in the world,"
Razer CEO Min-Liang Tan
noted
.
"Thinner than a dime and more powerful than other traditional desktop replacements today, we've created an entirely new category of thin and powerful laptops that is generations ahead of other PCs."
Besides the powerful specs, the Blade has a 14-inch LED-backlit
HD
display at 1600x900
resolution
. The trackpad has multi-touch support and the keyboard is backlit and includes full anti-ghosting capabilities and programmable keys.
The laptop will cost $1800.