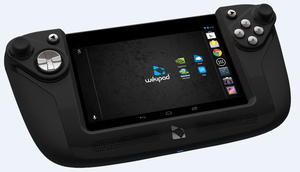 The 7-inch Wikipad tablet will be available in the United States from June 11, at a retain price of $249 with a global launch planned for summer.
The Wikipad aims to bring together the console quality experience with the functionality and portability of a premium tablet.
"The launch of the Wikipad 7 tablet signals a transformative turning point in the direction of the mobile gaming industry. Wikipad's tablet combines the latest range of features found in a premium Android tablet together with the unrivaled console video game experience only available with a gamepad,"
said
Matthew Joynes
, Chairman of
Wikipad Inc
.
Wikipad offers a multi capacitive 7 inch touch screen, 16 GB memory with an additional micro SD slot to support a further 32 GB of storage, together with micro USB, GPS, accelerometer and gyroscope.
The tablets ultra-light and thin chassis is powered by the
NVIDIA Tegra 3
quad-core mobile processor that's optimized for cloud gaming with a 12 core Nvidia GPU. With an aspect ratio of 16:10, a 2-mega-pixel front facing camera the Wikipad tablet offers true widescreen HD display and HDMI out. It runs full Android 4.1 Jelly Bean.
On the gaming side, customers will have access to over 700,000 apps from
Google Play
, and more from PlayStation Mobile games and TegraZone.
More Info:
Wikipad