Last year, VUDU launched its "disc-to-digital" initiative, giving disc owners a chance to have access to a digital copy of their movie in the cloud, for a nominal price.
Originally, the program was only available at Wal-Mart stores (Wal-Mart owns VUDU) and users had to bring their discs to a store to have the "conversion" done. The price is $2 for an
SD
digital copy of a
DVD
or $5 to get an
HD
copy. If you bring in Blu-rays, you can get an HD digital copy for $2.
The program was certainly interesting, but it was not very successful as there were not many people willing to drag their movies to a Wal-Mart and pay again to have their movies in the cloud.
Earlier this week, VUDU announced that the program had been expanded to online, with the launch of their "In-Home Disc-to-Digital" efforts. Users can now convert their movies right from the comfort at home. Additionally, VUDU has added a new promotion, if you convert more than 10 discs at a time, the price is cut in half. Also, everyone gets $2 credit just for trying it.
Here is a quick guide on how to get started with getting your movies in the cloud using the new program.
Getting your movies in the cloud with VUDU Disc-to-Digital
The first step is the quick installation of VUDU To Go, the only piece of software you will need moving forward. Get it here:
VUDU To Go
Open the software for the first time and you will be greeted with a very bland page with three tabs. Click on the third tab, "Disc To Digital" to get started.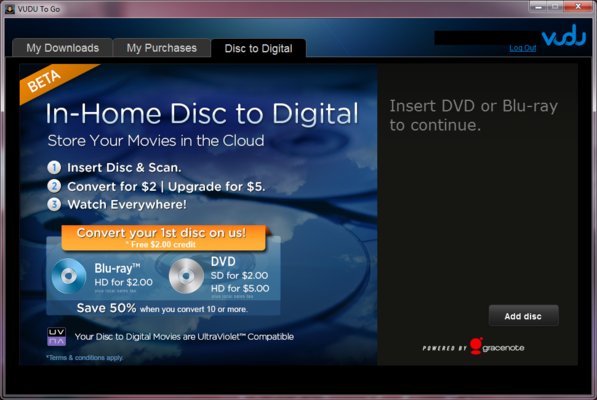 Insert the disc of your choice, whether DVD or
Blu-ray
into your PC's optical drive, and give the app a few seconds to recognize it.
NOTE:
This process will not work if you have AnyDVD or other DRM-stripping applications running. Shut them off for the time being. Once it reads the disc, an IMDB-esque page will pop up, showing off the movie and giving you options of how you want it, SD or HDX, which is the company's almost-Blu-ray-quality version of HD. Remember the pricing we mentioned earlier.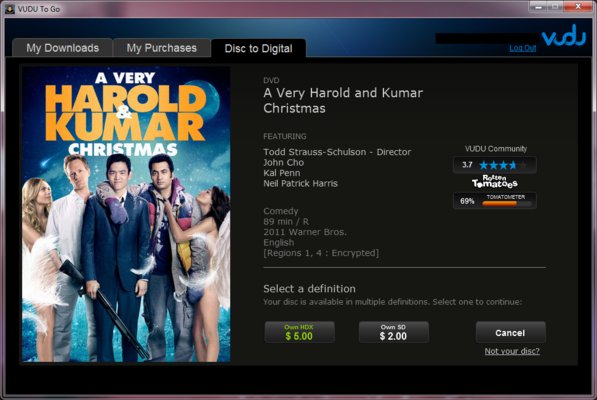 It is also important to note that not all movies are eligible to be copied to the cloud. I tried 14 movies for this guide, and 3 were rejected. The studios supporting the initiative right now are Paramount Home Media Distribution, Sony Pictures Home Entertainment, Twentieth Century Fox Home Entertainment, Universal Studios Home Entertainment, Lionsgate Entertainment and Warner Bros. Home Entertainment. After you select the quality, you will led to a checkout screen where you can choose to add more discs or buy what you have already chosen. If you want to add more, hit "Add Disc" and remove the movie from your optical drive and insert the next movie. If you are done, hit "Proceed To Checkout" and add a credit card to your VUDU account.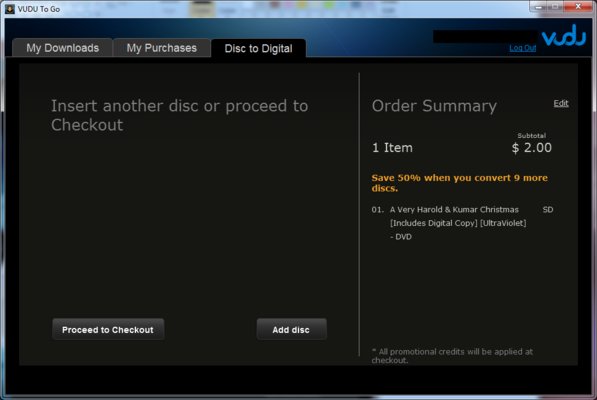 Once you have paid for the movie, the conversion is instant as you are given access to the digital copy of the movie stored in the VUDU cloud. You can access the movie from PCs, Macs, gaming consoles, Web-enabled Blu-ray players and Roku boxes making it very accessible. You can also choose to download the copy if you do not want to stream it, making it portable.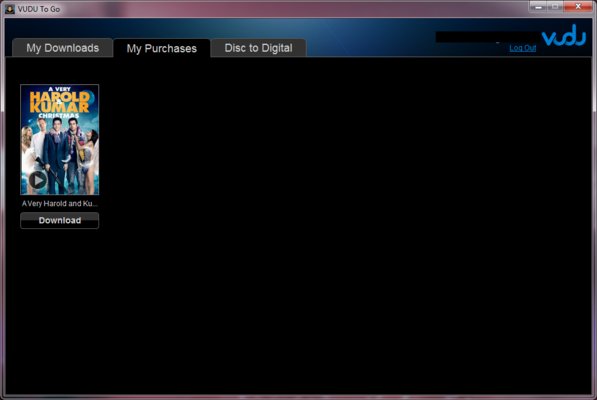 Overall, VUDU has made this process as easy as possible, and a lot easier and quicker than converting your discs to video files manually or downloading them illegally. While the price can be a bit steep, especially for an upgrade to HD, I was very happy with the option to convert some older movies to the cloud and stream via my PlayStation 3.