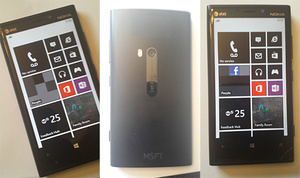 Last week we reported on screenshot leaks for the upcoming Windows Phone Blue operating system. The screenshots came via a
Lumia 920
that had been purchased on eBay by a young Windows Phone fan in Seattle.
It appears that there is much more to the story, says
Verge
,as
Microsoft
has quietly retrieved the phone back.
An employee lost the phone on a bus, and whoever picked it up sold it to Jeremiah Wong, who told his story to the source.
"The phone in the pictures looked different. Mainly the Start Screen had the feedback hub, also etching on the back that read MSFT."
Wong figured the device was a developer kit due to the special etching on the screen, but it was more than that.
After posting his phone number inadvertently in one of the screenshots, Wong was contacted by Microsoft's legal team who asked him to remove the photos from his Flickr account, which he did. Microsoft then reimbursed him for the phone and sent a replacement
Lumia
920.
"I was incredibly surprised at the lack of intimidation and even more surprised at their accommodation,"
says Wong.
The story is very reminiscent of when an
Apple
employee lost an iPhone 4 at a bar months before its unveiling. Apple took a different route, however, raiding a Gawker employee's house and threatening to sue anyone who kept the pictures posted.