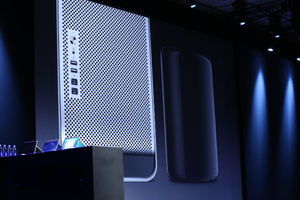 Apple
has shown off a prototype of their upcoming refreshed Mac Pro desktop.
The device uses a cylinder design and will include high-end specs and be built in the U.S. Apple exec Phil Schiller also brought a little
fury
, yelling "Can't innovate anymore, my ass," before showing off the device.
First, the desktop is 1/8th the volume of the previous model of the Pro, hiding 4 USB ports,
Gigabit
ethernet
,
HDMI
out, 6 Lightning 2.0 ports and more in a tiny frame.
Under the hood is a monster 12-core, 256-bit
Intel
Xeon processor with 1,866MHz DDR3
RAM
and a purported 60GBps performance. The Mac Pro also ships with dual
AMD
FirePro GPUs, which supports three 4K monitors.
The computer will be at least 2.5 times faster than the highest-end current model Pro.