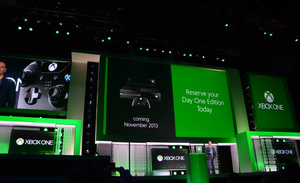 A day after announcing the console would launch in North America and Europe in November, the company confirmed that the Xbox One will not reach Asia until 2014.
The software giant says the rollout is part of a "staged approach" to marketing the new console.
Alan Bowman, Microsoft's regional vice president for sales and marketing in Asia,
says the company
is working hard on "ensuring a great experience for customers" in the region, including the addition of more localized content and services.
Notably, Bowman says the device will only be released in Taiwan, Hong Kong, Singapore, South Korea and India; leaving China and Japan out. The company says those nations are high-growth for consoles, and have seen decent sales for the
Xbox 360
.
The console will sell for $500 in the U.S. when it is released.