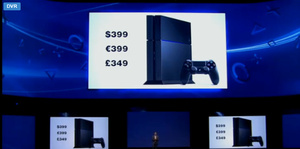 Sony
concluded their E3 event today by pricing the upcoming PlayStation 4, and blowing the Xbox One out of the water in doing so.
The console will sell for $399 in the U.S., $100 less than the Xbox One.
Additionally, Sony confirmed the console supports used games and does not require always-on Internet for authentication.
Microsoft
should have their work cut out for them moving forward.