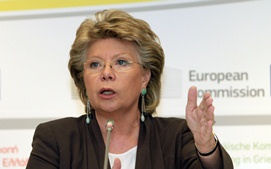 European Commission Vice President Viviane Reding has made it clear that national security does not provide states with an 'anything goes' right to spy on citizens.
VP Reding had met with U.S. attorney general Eric Holder on Friday at the EU-U.S. Ministerial meeting held in Dublin, Ireland. Previously, the commissioner had sent a letter to Holder asking for information on recent revelations of NSA spying, and how it affected citizens of the 27-national European Union bloc who use Internet services from U.S. firms.

At the meeting, the two delegations agreed to quickly convene a meeting of EU-U.S. experts to look into the "PRISM" revelations and the safeguards available for EU citizens. Reding also called for intensified efforts to reach an EU-U.S. data protection agreement that would provide equal protections for citizens of both regions.

"The concept of national security does not mean that "anything goes": States do not enjoy an unlimited right of secret surveillance," Reding said in a statement.

"In Europe, even in cases involving national security, every individual – irrespective of their nationality – can go to a Court, national or European, if they believe that their right to privacy or to data protection has been infringed. I have made my point clearly: this is what I want for European citizens also in the US."