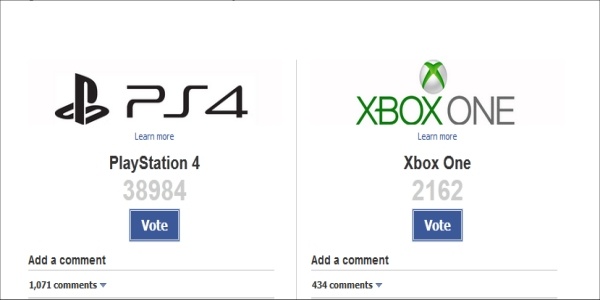 On June 13th, Amazon put a poll up on their Video Games division's Facebook page asking consumers one simple question; Do you prefer the PlayStation 4 or the Xbox One.
Three days and over 40,000 votes later, the etailing giant has taken down the poll prematurely, as it was set to run until June 20th.
The PS4 absolutely
demolished
the Xbox One, with 38,984 votes for the
Sony
console and just 2162 votes for the
Microsoft
rival.
At this point in the next-gen console wars, it appears Sony has the upper hand, thanks to a more pro-consumer approach.
Sony has no restrictions on used discs being played on any console, does not require online authentication to play single player modes, and costs $399 compared to the Xbox at $499, although that does include the
Kinect
system, as well.