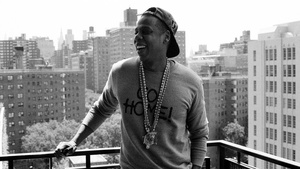 Last night, during Game 5 of the NBA Finals,
Samsung
and Jay-Z played a three minute commercial showing off a new partnership between the two brands.
Jay-Z's newly announced album, "Magna Carta Holy Grail," which goes on sale on July 7th, will be available to 1 million lucky Galaxy S3, S4 and Note II owners who download a special app.
The app will be available on June 24th and gives an "unprecedented inside look into the album personal stories and inspiration," besides the actual album itself. App downloaders get the album three days early, on Independence Day, for free.
Reports claim that Samsung paid $5 for each album, meaning Jay-Z and his label have pocketed $5 million weeks before the
CD
even launches.
Here is the commercial from last night: