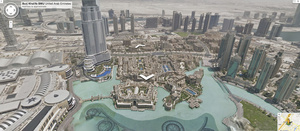 Google's Street View has just covered its first skyscraper, the Burj Khalifa in Dubai, letting you take a look at the world's tallest building.
The Street View Trekker and Trolley were used to cover areas of the iconic building, the first collection made by the service in the Arab world. Described as a "vertical city," the Burj Khalifa is the world's tallest manmade structure, towering over the Dubai skyline at 828 meters (2,717 ft).

In addition to the breathtaking views from the world's tallest observation deck on the 124th floor, you can also see what it feels like to hang off one of the building's maintenance units on the 80th floor, normally used for cleaning windows.

Visit the highest occupied floor in the world on the 163rd floor, experience being in the fastest-moving elevators in the world (at 22 mph) and check out the highest swimming pool in the world on the 76th floor.