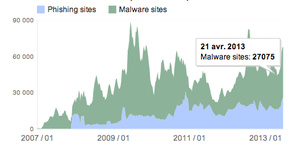 Google has updated their Transparency Report to include a new section in which they highlight malware.
Says the site:
"Google Safe Browsing scans millions of websites to identify those sites that install malware without a user's knowledge. We discover and categorize these sites by autonomous system (AS) numbers, thousands of which exist on the Internet."
Additionally, there is a heat
map
that allows you to mouse over every country and view the rate of sites infected with malware or attempting to phish personal information.
The U.S. scored very well, with a malware rate of 2 percent. Latin American countries like Mexico and Chile had higher rates, 12 and 11 percent respectively, while India, Bosnia, Hungary and others had massive 15 percent rates.
Google does note that the data is "not comprehensive and is best viewed as an indicator of the global malware problem." Check the heat map here:
Google TR
(Pic via
Om
)