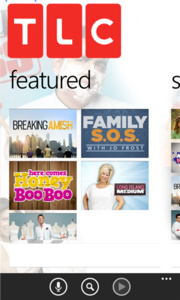 Microsoft
has announced today a trio of new apps for their Windows Phone platform.
The new apps will allow users to watch full episodes of their favorite shows on Discovery Channel, TLC, and Animal Planet.
Additionally, you'll be able to view thousands of curated clips and special behind-the-scenes material from the programs.
Special to Windows Phone, you can pin your favorite shows to the Start Screen for quicker access and set calendar reminders for your favorite episodes.
Get the apps here:
Windows Phone Apps