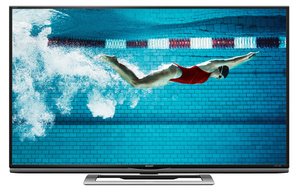 Sharp has unveiled its new 70-inch AQUOS Ultra HD LED TV, the first television to receive the coveted THX 4K certification.
Capable of displaying content up to 3840x2160, the 70-inch class (69.5-inch diagonal) TV could display breathtaking 4K content. It will cost you though, with a price tag of $7,999.99.

"Sharp has a rich history of leading the electronics industry in innovation. Today we continue that tradition with the introduction of the AQUOS Ultra HD LED TV," said John Herrington, President, Sharp Electronics Marketing Company of America.

"With four times the pixel resolution of HD, the 70 inch class AQUOS Ultra HD LED TV is our finest television ever."



Due to the scarcity of 4K content at the moment, Sharp has put quite an emphasis on the TV's ability to upscale video.

"First, a dual-core processor fine-tunes the original signal for optimal picture quality. Next, the upscaler analyzes and interpolates the content to create a 4K (3840×2160) image," Sharp's press information reads.

"As a result, the AQUOS Ultra HD LED TV produces a higher quality image that makes anything you watch more crisp, more detailed, more stunning. Movies, TV shows, video games, even YouTube videos are analyzed and digitally enriched, unlocking scores of hidden detail."