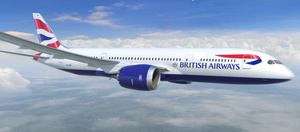 British Airways is set to relax rules on the use of electronics after its planes have landed at airports.
Passengers are not allowed to have electronic devices like mobile phones, tablets or laptops switched on during the critical take off and landing periods, where most accidents occur. There are two reasons for the restriction, with the obvious first being possible interference at a critical part of the flight, and the second being concerns about passengers being distracted during take off and landing.
Once over 10,000ft, devices can be generally be switched on, and airlines have been taking in more revenue by offering premium wi-fi services at high altitudes.
BA's rules relaxation will simply allow passengers to power up devices once they are off the runway, rather than waiting until they reach the terminal.
"Customers will no longer have the frustration of having to wait until their plane has arrived at the terminal building before being able to use their mobile phones and other handheld electronic devices,"
said Ian Pringle, BA flight training manager.
"Now they'll have that extra time to phone ahead for that important business meeting, check their emails, or make sure someone is there to meet them at the airport."
The changes
come into effect on July 1
.
In the United States, the
Federal Aviation Authority (FAA)
is also considering relaxing some rules related to electronics usage during flights, finding that almost 50 year old regulations are untenable in the current times.