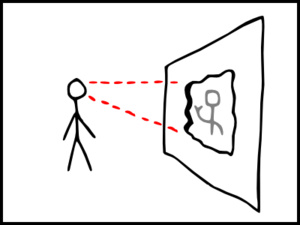 MIT professor Dina Katabi and graduate fellow Fadel Adib have announced today a new tech that could allow you to see through walls, sort of.
Dubbed "WiVi," which is a mix of Wi-Fi and "vision," the tech will allow viewers to "see" any persons moving behind a wall.
As explained
by the professor
, "the subtle reflections of wireless inter signals bouncing off a human could be used to track that person's movements." In the duo's previous experiments, however, the tech had very limited use since it required a wireless router already be in the room being tracked or a large specialized radio.
The new tech use the same wireless antennas seen in your smartphones, tablets and other mobile devices and technically could be eventually embedded into your devices. The biggest issue is the ability to cancel out all interfering signals. Wi-Fi bouncing off walls, for example, are thousands of times more powerful than a reflection off a human body.
WiVi "sends out two wireless signals, one of which is the inverse of the other. Te two signals cancel each other out unless they hit a moving target – such as a human. To silence the noise, we change the structure of the Wi-Fi signal so all the undesired reflections cancel."