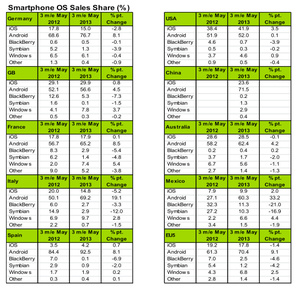 Kantar has
released
their latest report on global smartphone market share, and Windows Phone has seen some respectable growth across the board.
In Italy, the operating system has moved up to 9.7 percent share, its highest around the world (at least reported). In England, share jumped to 7.8 percent, up almost 100 percent year-over-year and in France share jumped to 7.4 percent, over 300 percent growth year-over-year.
Moving to the U.S., the operating system is now at 4.6 percent share, up from 3.7 percent YoY.
On the other hand, BlackBerry saw a collapse for the ages. In most nations (check data below), the company saw a 70 percent or higher share drop. Worst was Spain where the OS went from 7 percent share in 2012 to just 0.1 in the latest report, a 98.6 percent loss.
Check the full report here: