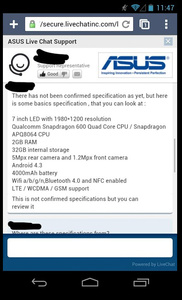 Take this as a rumor for the time being, as it could very well be a hoax, but allegedly an
Asus
representative has confirmed a few specs for the upcoming second-generation Nexus 7.
Via a live chat, the rep has posted almost a full list of specs for the tablet, including word that it will have the highest
pixel
density yet seen on a tablet.
The device is "confirmed" to have a 7" 1980 x 1200 pixel screen, a Snapdragon 600 processor, a 5
MP
rear camera, 32GB internal storage, 2GB
RAM
, 4000 mAh battery, and
LTE
support.
Asus' device should be available by the end of the summer.
Check the screenshots here (via
Arena
):