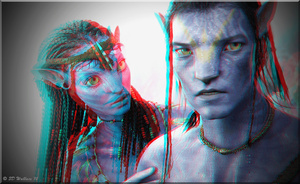 Mr. billion dollar movie, James Cameron, who helped make 3D mainstream again with his hit 'Avatar,' says Hollywood is forcing the tech on filmmakers not to enhance movies but just to maximize profits.
While Cameron says he hoped Avatar would "get as many people shooting in 3D as possible," 3D production has now
"become a studio-driven top down process to make money."
Additionally, Cameron adds that directors may not even have any say as 3D elements are added in post-production.
When asked for examples, Cameron cited two new hits, Man of Steel and
Iron Man
3, as movies that did not really need 3D.
"If you spend $150 million on visual effects, the film is already going to be spectacular [and] perfect,"
he
added
.
Cameron will use 3D for his upcoming Avatar sequels and likely for his next project, Battle Angel, based on the popular graphic novels.