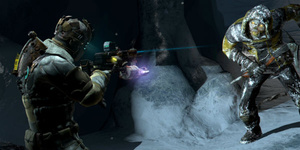 EA has confirmed that its oft-rumored 'Dead Space' film adaptation is in the works.
The publisher made the announcement during a Comic-Con panel discussing franchises moving from the small screen to the big screen.
Justin Marks, the writer behind the awful Street Fighter: The
Legend
of Chun-Li,
has been signed on
for the script. While he confirmed that the movie could not be 100 percent faithful to the game in execution, he would prioritize the main character's story in a way that is proper for a full-length film.
The first
Dead Space
game was released in 2008, followed by sequels in 2011 and 2013. Each have been well received by critics and gamers. The games follow protagonist Isaac Clarke who battles reanimated human corpses among other monsters.
Industry watchers expect the film to be released in late 2014.