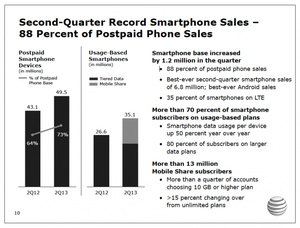 AT&T has announced their quarterly earnings today, including a record number of
Android
smartphone sales.
The company reported $3.82 billion in profit on revenue of $32 billion.
"This was a solid quarter for revenue and customer additions across our key growth platforms,"
noted CEO Randall Stephenson.
The giant telco
added
551,000 postpaid subscribers and 632,000 total subscribers for the quarter.
More than 35 percent of customers now use the fast 4G
LTE
network, and 65 percent use either LTE or HSPA+ (a 4G-esque high-speed 3G network). The company also added that deployment of their 4G network is ahead of schedule, with full nationwide rollout expected before the end of 2014.