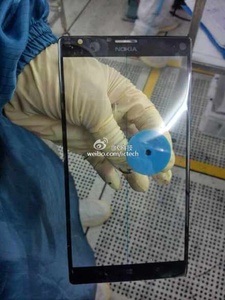 While
Nokia
has so far shied away from large screen devices, they have been rumored to be working on a "phablet" for some time now.
Now, thanks to
ICT
, we have the first alleged picture of the upcoming device (at least in part).
ICT has been very strong in their track record for leaks in the past, but definitely take this story with a grain of salt until Nokia confirms it.
In the photo we see the front case for the upcoming 6-inch device, which includes a very thin bezel and the standard Nokia branding and the standard Windows button.
Nokia is said to already be mass producing the device, and hopefully it will launch alongside this winter's Windows Phone update that allows for
1080p
displays.