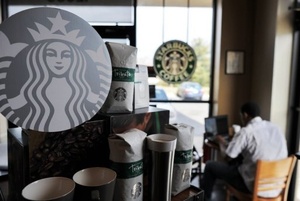 Google has
announced
that it will be providing Wi-Fi for all 7000 Starbucks locations in the U.S. beginning later this year.
The search giant proudly boasted that speeds will improve, as well, compared to AT&T's current Wi-Fi offerings in the
coffee
chain.
Reads the release:
When your local Starbucks WiFi network goes Google, you'll be able to surf the web at speeds up to 10x faster than before. If you're in a Google Fiber city, we're hoping to get you a connection that's up to 100x faster.
Google will begin rolling out the Starbucks network next month, with a full rollout expected by the end of 2014. To make sure you have the network, Google says
"you'll know your new network is ready to go when you can log in to the 'Google Starbucks' SSID."