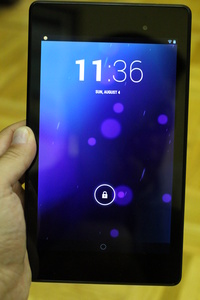 We've had a week to toy around with the new 7-inch Google Nexus 7 FHD and the only question that remains is whether it is the best small tablet ever made.
Google has slimmed down the tablet from last year's popular model, significantly upgraded the display and added a camera and wireless charging support.
Specs under the hood have also been upgraded, and the device is one of the first to get the latest
Jelly Bean
update, version
4.3
.
At a price $100 cheaper than the clear market leader for smaller form-factor tablets, the iPad Mini, Google has shown that they have certainly been paying attention. Read on for our review of the 2013 Google Nexus 7 FHD.
Specs and Design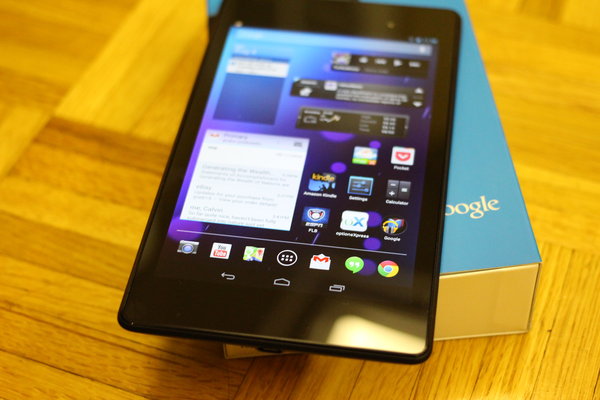 The original Nexus 7 was not a particularly attractive device. The tablet had plastic edges, and the back cover had a strange rubber feel with small dimples. The grip was good, but the look was not. Additionally, the tablet had huge bezels, which unfortunately have not changed.
Moving to the new FHD model, Google has certainly made the tablet more attractive and sleek. The device is fully black now, the edges are more defined, and the back cover is more sleek, yet somehow soft to the touch. The tablet does not feel as cheap as its predecessor did. It is not on the level of the iPad Mini, but it is getting closer.
Google slimmed down the device to 8.65mm, and it weighs 0.64 pounds, which a bit lighter, as well. The device can be used with one hand, and holding for an extended period does not hurt your hands. The tablet has a microUSB port for charging and syncing, the volume rocker and power buttons are on the right side (a personal pet peeve of mine but probably not an issue for most), there are dual cameras (the front side camera is strangely not centered) and multiple speakers. Other than a large "Nexus" logo on the back, there is little else on the tablet.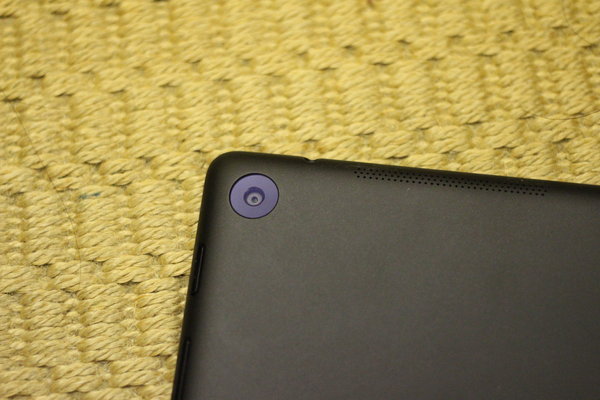 Under the hood is a 1.5GHz Qualcomm Snapdragon S4 Pro, 2GB
RAM
, an Adreno 320
GPU
,
NFC
, dual-band
802.11
a/b/g/n Wi-Fi and wireless charging support if you have a Qi-compatible charger. Additionally, the Nexus 7 supports
OpenGL
ES: 3.0, which supports higher-quality reflections, lens flares and other shading during gameplay.
The two cameras work as they should, but not spectacularly, but if you are picking up a tablet for its cameras, I'm not sure what to tell you.
Safe to say, performance is
snappy
, but more on that later.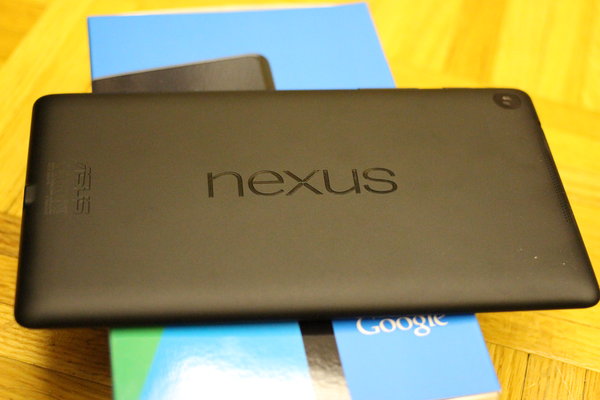 Display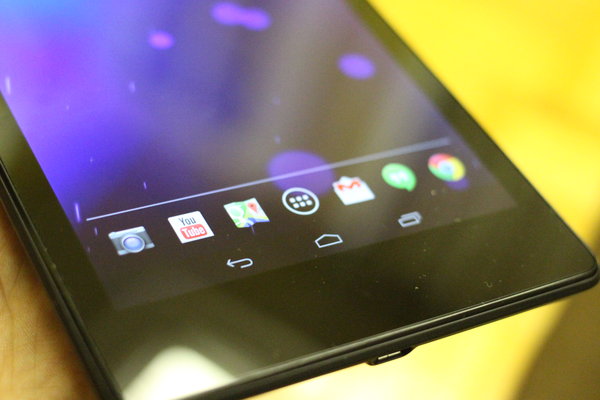 The display is what separates the tablet from the competition. The 7.02-inch display is
Full HD
(1920x1200), with a 323 ppi. The company says it is the sharpest 7-inch display, ever, and I would have to agree. In all honesty, it blows away the original Nexus 7's display, and puts the iPad Mini's to shame. It is comparable to the latest generation Retina iPads and Google's own Nexus 10, which has a much higher
resolution
.
Colors are bright and vivid, and saturation is great. Yellows, reds, greens and blues look as they should, with no washout.
Viewing angles are excellent in landscape mode. In portrait, they are not as great, but if you are watching a video or a movie, then there is a good chance you are in landscape. Netflix and Hulu Plus in
HD
look great. Reading text, via web sites or Kindle/Nook/Kobo apps is great, as well, and clear as possible.
Google has placed the nicest 7-inch display on a tablet, ever.
Performance and Battery Life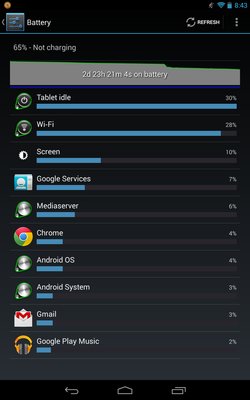 Performance is, for lack of a better term, snappy. I have yet to experience lag of any kind, even during more intensive multitasking. Apps open with ease, and widgets perform admirably. By next year, the tablet's processor will seem as old as a Pentium 4, which is unfortunate, but for now it is extremely powerful and fast and a joy to use.
Battery life has been good so far, as well. While it does not live up to life of the iPad Mini, not by a long shot, you should not have any issue with getting 8 hours with regular usage. Turning down the brightness for the display certainly helps, as well, as that seems to be the only real battery hog. Additionally, the device has a slightly smaller battery than last year's Nexus.
(Picture shows off great standby)
Software and Ecosystem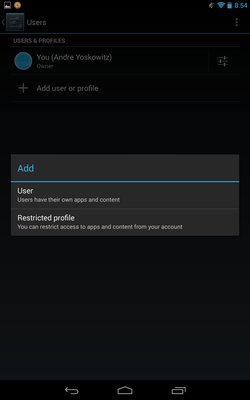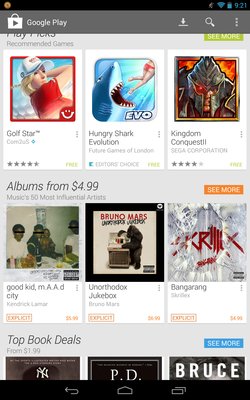 We cannot get through a review of this tablet without noting the updates to
Android
itself. The Nexus 7 comes with Android 4.3, the latest (albeit minor) version of Jelly Bean.
Earlier this year, with 4.2, Google introduced multiple accounts features, allowing users to switch accounts and profiles within the same tablet (or eventually, smartphone). However, there were no restrictions, meaning you could not lock specific apps or select passwords. This was certainly an issue for parents who may not have child-appropriate apps or games.
As aforementioned, Android 4.3 adds support for the OpenGL ES 3.0 standard. 3.0 accelerates advanced visual effects, offer higher-quality reflections, lens flares, texture
compression
and 32-bit floating point support. This is a big plus for gamers.
Additionally, the operating system adds support Bluetooth Smart, LE and AVRCP 1.3. AVRCP improves remote control functionality across
streaming
media devices. Bluetooth Smart adds support for wearable tech, including Google Glass and smartwatches. The Smart API allows for easier sending and receiving of a stream of notifications.
Additionally, a feature I appreciated greatly was the dialpad autocomplete. If you start typing in a number or name into the dialer, it autocompletes the rest, allowing names to be more easily selected. That simple feature had disappeared with Jelly Bean for some reason. Google has also added support for 4K resolution, and a Wi-Fi scan mode that does not connect while scanning and improves accuracy.
The Google ecosystem is top notch. Google has spent plenty of time and money building an app store and ecosystem that can hang with Apple's. The selections are still not as large as Apple's, but they are getting close. Movies, TV, Music, Books, Magazines and Games are all easily accessible, and Google has smartly integrated their Hangouts messenger, Google+ social network and Currents news aggregator. I could not live without Google Music, and I can't imagine that will change anytime into the future.
One "problem" is Android's lack of tablet-optimized apps when compared to
iOS
. While all Android apps work and look fine on the tablet, you can tell they were built for smartphones and smartphone screens. This has been improving for years, but it is not completely there yet.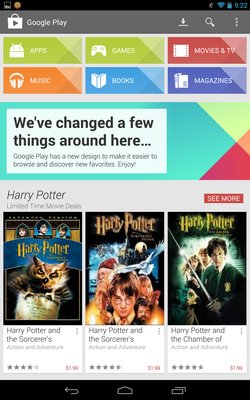 Final Thoughts
Google is selling the Nexus 7 FHD for $229, a $30 increase from last year's original. The extra money may scare away some consumers, but the value is certainly there, especially when compared to the mediocre screen and processor of the $329 iPad Mini. The stock Android experience is second-to-none, in my opinion, especially when compared to the bloat of
Samsung
and other tablet makers.
You are getting the nicest display on a 7-inch tablet, hands down, and a better screen than the iPad Mini. 8-inches is perfect for a tablet, however, and the large bezels of the Nexus 7 FHD make the screen look smaller than it should.
The tablet is light, highly portable, sleek and a massive improvement from the original Nexus. It is the best value in the market, and worth picking up. One day, someone will be able to match the aesthetics of the iPad Mini, but for now this will do.
Specs 9/10
Design 8/10
Display 10/10
Battery Life 8/10
Performance 10/10
Software 9.5/10
Ecosystem 9.5/10

Total: 9.1/10