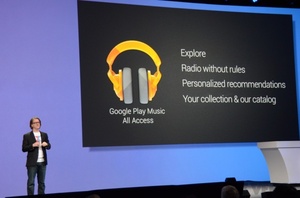 Google has expanded their Play Music All Access service to numerous new nations.
The service rivals
Spotify
, Rdio and others, and should prove to be major competition given Google's deep integration in
Android
and its hundreds of millions of users. At $9.99 per month, the service offers unlimited
streaming
music from the major record labels (UMG, Warner and
Sony
) and indie labels and be available on mobile devices as well as the standard desktop option.
Similar to Spotify, All Access will let users create radio-esque stations from their favorite songs or genres as well as create playlists.
The service will cost €9.99 / £9.99 (UK). Functionality will be the same as the US version.
Full list: