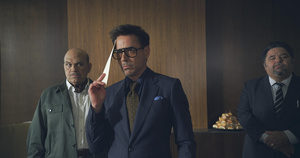 HTC
has unveiled their largest marketing campaign to date, showing off the "Change" brand platform and its lead spokesperson, blockbuster actor Robert Downey Jr.
Downey signed a two-year deal with HTC and will appear in all ads for the brand, many of which will first debut on YouTube and then on TV.
Additionally, the actor worked with the company "to shape the
creative
direction, putting change at the core of HTC's brand by offering a variety of unique interpretations of the HTC acronym."
The company says the campaign will roll out in three phases, with the first phase "highlighting HTC's brand with a playful take on what it means to different people." The next phase "will feature executions which highlight how HTC innovations--like BlinkFeed, Video Highlights and BoomSound--have changed the face of the mobile industry." Finally, the third phase "will focus on how HTC products empower individuals to drive change in their own lives."
Ben Ho, CMO of HTC comments,
"HTC's innovation, authenticity and boldness have made us the change-makers in the mobile industry and led us to launch what influencers regard as the best phone in the world, the HTC One. Our original and playful Change platform is different to anything else out there and aligns our brand with the same qualities our phones are already known for. With this campaign, we are affirming what HTC's role is in the mobile market which is to define change and to lead the industry in developing the newest and most innovative technologies."