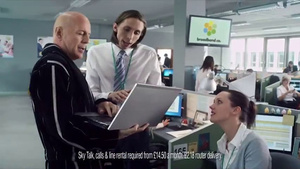 The Advertising Standards Authority (ASA) in the UK has told Sky not to air a TV ad featuring Bruce Willis, saying the ad is misleading to consumers.
The ad featured the star walking into the offices of an ISP to complain about the quality of his service (download limits), when he is told to switch to Sky Broadband as its
"totally unlimited."
A voice-over then reveals that the service is £7.50 per month.
A viewer complained to the advertising watchdog saying that Sky didn't make it clear the extent of the commitment customers have to make in order to receive the unlimited service for £7.50 per month. On screen small print does say that Sky Talk, calls and line rental were required, from £14.50 per month.
At the beginning of the ad, the small print also says
"Sky TV from £21.50 a month, box and set up costs may apply."
The Advertising Standards Authority found the ad to be misleading, since it was clearly not aimed at existing Sky customers.
While Sky admitted that its Sky TV package is not required for a broadband package (would cost non-subscribers £10 per month), it said it believed it make its pricing clear and the average consumer would understand the on-screen small print.
The ASA disagreed, saying that the small print "would by its nature be significantly less prominent than a claim made in a voice-over, and was therefore not an appropriate method of communicating material information relating to the £7.50 price claim".
It told Sky
not to air the advert in its current form again
in the UK.