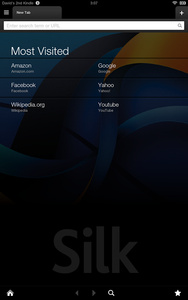 Amazon's Silk browser, first introduced with the Kindle Fire, has seen its first major update in a year.
The browser was different because it promised to have faster performance due to letting a good portion of the browsing occur in the cloud.
However, speed was never as advertised and Amazon has only performed minor updates on the browser in the last year. This week's update is mainly an interface refresh including a fully redesigned navigation system.
Controls, new buttons, and a simplified reading view are also updated.
While the updates are a nice step, even the Amazon team admits that
"we're in the early days of Amazon Silk, and there's plenty of work still to do."
(Pic via
Verge
)