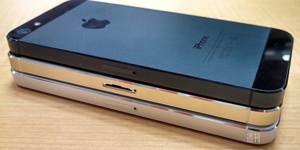 Apple
, who is set to unveil their new iPhone 5S at an event on September 10th, will likely add a new "champagne" colorway, as seen in leaked photos recently posted here.
Ascii
has a few pictures of the alleged casing, which includes a slightly thinner "iPhone" inscription font.
While the device will keep the same screen size and
resolution
, Apple is expected to update the processor to an A7 system-on-chip design with 1GB of LPDDR3
RAM
. Due to the ARMv8 architecture, efficiency will be increased 20 percent.
On the camera side, the sensor will remain the same, but the device will have a larger f2.0
aperture
lens with dual LED flashes.
One analyst believes a fingerprint sensor is coming, as part of an embedded
sapphire
glass home button. Furthermore, a 128GB model will be made available, as well. Apple is not expected to introduce
NFC
with the iPhone 5S.