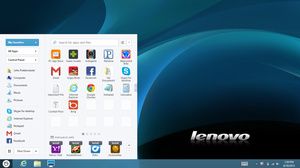 Lenovo
has signed
a deal with developer SweetLabs to bring the company's
Pokki
app platform to Windows 8 devices.
Pokki will be pre-installed on new devices, and the platform will bring back a functional start menu. Poki adds an acorn button where the start button used to be, giving access to the control panel, apps, your documents, music and more.
Of course, it also gives easy access to the Pokki store and game arcade, which allows you to get apps not through Microsoft's Windows Store. Besides web apps, SweetLabs is expanding the store to include desktop programs and Windows 8 "Modern" UI apps.
Microsoft
, after plenty of user criticism, will be returning a version of the start menu with October's release of Windows Phone 8.1.
Says SweetLabs:
"We started our company five years ago with a plan of building the largest app distribution platform on planet. We think this is a pretty major step in that direction."