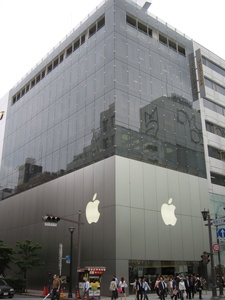 Apple
is planning to open a retail store in Tokyo's Omotesando shopping district, its first new store in the city since 2005.
Construction is expected to be completed by February and the store could open in March. In fact, Apple has already begun advertising jobs for the new store.
"For Apple, the Japanese market is appealing in terms of quantity and price,"
said
Satoru Kikuchi, an analyst at SMBC Nikko Securities Inc.
"There is a room to expand tablet sales and a possibility the Japanese market expands if Apple's mobile carrier partners increase."
Japan's largest carrier, NTT DoCoMo recently announced it would be willing to carry the iPhone if it could limit the handset's share of sales to 30 percent or less of the company's overall sales. DoCoMo offers an online store, the "dmarket," that directly competes with
iTunes
for music, games, TV and other content.
Such a move would greatly expand Apple's reach in the nation.