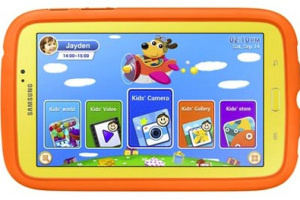 Samsung
has unveiled the Galaxy Tab 3 Kids, a colorful model of the company's latest tablet.
The Tab comes with parental controls and pre-loaded content and apps for children.
As can be expected, the 7-inch tablet will not feature high-end specs. The device has 1024 x 600
resolution
, a 1.2GHz dual-core processor and 1GB of
RAM
. On the backside there is a 3MP camera and a 1MP camera upfront for video chatting.
There is 8GB of internal storage but a
microSD
slot if you need more.
Samsung
confirms
there is no
LTE
connectivity but of course there is 2.4/5GHz dual band
802.11
a/b/g/n Wi-Fi. The device runs on
Android
4.1, but Samsung has nearly made all stock remnants disappear with their own user interface
overlay
.
One example of a parent-friendly feature is a time management setting that lets parents set how long the tablet can be used during a day. After the period, a password-protected lock screen appears, blocking the screen until it is unlocked. The app store is also "child-friendly," and will block mature rated content and games.
The tablet is expected to sell for $179-$199.