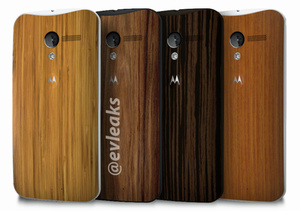 According to @evleaks, who has been extremely right with his leaks for a long time, the Moto X will drop to $100 on contract in the next quarter.
Additionally, the wood-grain back cases will be available at the same time, at a price of $50.
Google's Moto X has a 4.7-inch AMOLED
720p
display,
Android
4.2.2 (with minor
Motorola
bloat), a 10MP "ClearPixel" camera, and a new Motorola X8
chipset
that includes a powerful 1.7GHz dual-core Snapdragon S4, an Adreno 320
GPU
, 2GB
RAM
and built-in specialized processors for natural language processing.
The Moto X has a motion-sensitive Active Display, always-on Google Now voice commands and a camera activation gesture that requires just two wrist twists.
If you were considering buying the device, it may pay to wait another month.
Moto X price drop to $100 coming in Q4, along with wooden back configurations (for $50) pic.twitter.com/wpIdgYLjHO

-- @evleaks (@evleaks) August 31, 2013