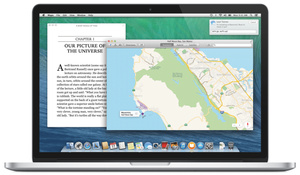 According to sources,
Apple
will release its next Mac operating system, OS X 10.9 Mavericks, by the end of October.
There had been speculation that the OS would be released alongside
iOS
7 on September 20th,
but this does not appear to be true
.
For their last two Mac OS X releases, the company waited until the week of their quarterly earnings report. The company is expected to release their fiscal Q4 earnings the week of October 21st, which could work with the new report.
Apple, during their
WWDC
event, said the release will have improved features for power users, better battery life and much better responsiveness.
First, the new OS will have "Finder Tabs" with their own location and own view mode. Second, when you save a document you can now tag it, making it much easier to search for in the finder sidebar.
In 10.9, you can also access your menus across multiple displays, a big plus for developers.