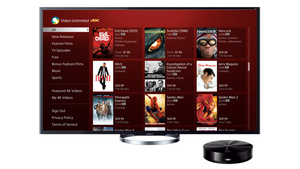 Sony
has unveiled two new 4K TVs and also its previously announced 4K video download service.
The service, dubbed 'Video Unlimited 4K,' will be available in the U.S. at launch, and eventually globally. At launch, there will be 70 full-length Ultra
HD
movies and TV shows, and by the end of the year there will be around 100.
To use the service
, you will need one of Sony's 4K Ultra HD Media Players (FMP-X1). Rentals for films start at $7.99 and purchases will lighten your wallet by $29.99.
The FMP-X1 home server costs $700, comes with 2TB of storage and 10 free films. Of course, to take advantage you will need a 4K Ultra HD TV, which will set you back at least $3000 today, as well.