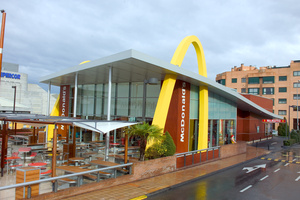 McDonald's has begun testing a mobile payment application in Austin and Salt Lake City ahead of a possible national rollout.
After you order with the mobile app, you can pick up your food in stores, at drive-thru windows, or curbside depending on your location. Using the system will also enroll you in a loyalty program and give you offers and special promotions.
The news comes via executive notes discovered by
Bloomberg
.
"While many competitors are publicizing their efforts to get an initial foothold in the mobile arena, no one has developed a comprehensive solution that integrates all the opportunities this technology presents,"
reads the notes.
McDonald's would not confirm the report, however.
"We're always looking at new technologies to make the McDonald's experience better for our customers,"
says a spokesman.
"We are testing some of these technologies in a few markets, so it's premature to speculate on the decisions we may make after the tests, but we're excited to bring a cutting-edge experience in the future to our customers."
The fast food giant has 14,000 locations in the U.S., alone.