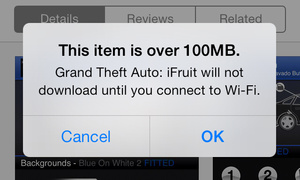 Apple
has upped the limit for App Store downloads over data and not Wi-Fi, from 50MB per app to 100MB.
The move
comes alongside the rollout of
iTunes
11.1 and
iOS
7, the latter of which is expected to already have been downloaded on 35 percent of all compatible iOS devices.
Apple most likely expects apps to get 'beefier' as they use the 64-bit processor in the iPhone 5S and updated
GPU
rendering.
If you are on a 3G/4G network, you will receive an error notice when trying to download an app above 100MB. You will then need to wait until you are on a Wi-Fi network to complete the download.