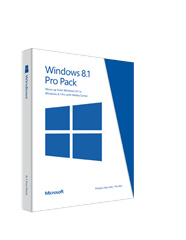 Microsoft
has revealed the pricing scheme for Windows 8.1, which is set for release on October 18th.
If you have Windows 8 installed, 8.1 is a free update via the Windows Store.
However, if you don't have Windows 8,
Windows 8.1 is going to cost you
. Base price for the operating system is $120, and Windows 8.1 Pro will set you back $200.
Microsoft notes that 8.1 will be slightly different than 8:
"One shift to note in Windows 8.1 is that we will be offering "full version software" at retail and online for download that does not require a previous version of Windows in order to be installed. The copy of Windows 8 that is currently available for sale at retail and online is an "upgrade version." This shift allows more flexibility for customers in specific technical scenarios and is in response to feedback we've received. It will be easier for those consumers who want to build PCs from scratch, run Windows 8.1 in Virtual Machine (VM) environments, or run Windows 8.1 on a second hard drive partition."
If you are installing from Windows 7, you can bring all your files over to Windows 8.1, but you will need to reinstall all your applications, including Microsoft Office. If you are upgrading from Windows XP or Vista, you will need to do a clean install, and you will lose all files and settings and apps.