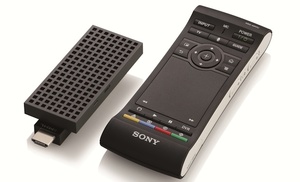 Sony
has officially unveiled the Bravia Smart Stick, a new
Google TV
device that plugs directly into your TV.
The dongle will sell for $149.99 and will only work with Sony Bravia TVs from this year (and into the future).
Featuring 8GB of on-board storage, the device plugs directly into the MHL port of Bravia TVs, and a provided USB cable is the power source. Additionally, the Smart Stick comes with a voice-activated remote control, allowing users to better control their content and entertainment.
"The BRAVIA Smart Stick answers the question, 'What's on TV,' with 'whatever you want to watch'"
said
Jamie Marsh, TV marketing manager for Sony Electronics Home Entertainment & Sound Division.
"It brings the full power of Google services to your TV. From the apps in the Google Play store to the power of Google search, the BRAVIA Smart Stick integrates seamlessly with Sony's own BRAVIA apps and navigation to deliver an amazing connected TV viewing experience."
One of the coolest features is the Smart Stick's Picture-and-Picture feature which "allows viewers to surf the web and watch TV at the same time in two independent windows on the television screen, without interfering with one another."
You can read more on the device
here
.