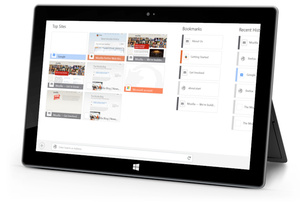 Mozilla
, which has delayed the browser multiple times, has finally released a preview of the upcoming Firefox for touchscreen Windows 8 machines, including tablets.
The browser is now available
in the "Aurora" release channel, after spending over a year in the more obscure (and highly unstable) Nightly dev channel.
As a stable release, Mozilla still has a January or February 2014 release timeframe.
Similar to Microsoft's Modern/Metro version of Internet
Explorer
, the new Firefox gets rid of most of the header and other interface elements that can clutter a browser window. In their place are swipe gestures and two buttons on the side of the screen, one for opening new tabs and the second for going back. That's it.
Under the hood is the same Gecko engine as the standard Firefox and there is support for
WebGL
and Mozilla's asm.js for high-performance JavaScript apps. There is also support for Windows 8 charms, accelerated HTML5 video and
WebM
and
H.264
.
Mozilla notes that syncing between the new browser and its desktop counterpart is not native and will require a third-party app.