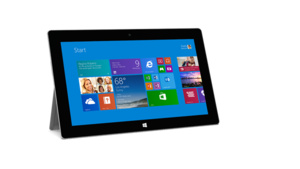 Microsoft
used a press event today to unveil the new Surface Pro 2 and Surface 2 (sequel to the Surface RT) along with a plethora of new accessories and updated keyboards.
Surface 2, which comes on the heels of a huge writedown due to excess Surface RT units, is vastly improved from its predecessor.
The tablet will now feature a
1080p
ClearType display, a Nvidia Tegra 4 quad-core processor (with 'dramatically' increased CPU speed, 25 percent better battery life, a
USB 3.0
port and improved bus speeds for the memory and Wi-Fi. Additionally, it is lighter and thinner and built from two pieces of magnesium, as opposed to three.
Microsoft says the tablet should run 300 percent faster than the RT, which was generally panned by critics and consumers alike for its lackluster performance.
Finally, Microsoft also says it improved the camera sensor to manage the light better when using
Skype
or other webcam videos. Surface buyers will also receive 200GB of free SkyDrive storage, for two years, and a year of free international calling and Skype hotspot access. The base product (with 32GB) will sell for $449 and go on sale on October 22nd. Pre-orders go live tomorrow.