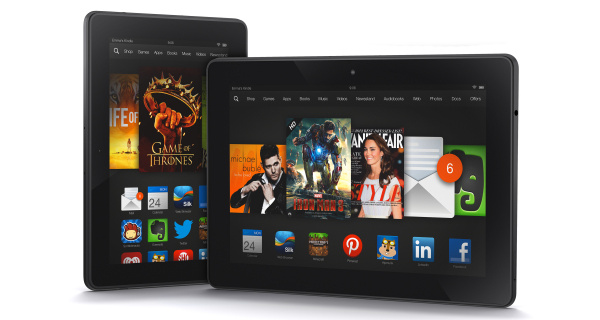 Amazon has introduced new higher-end Kindle Fire tablets, dubbed HDX, in 7-inch and 8.9-inch varieties.
The displays feature very nice resolutions, 1920x1200 at 323 ppi for 7" and 2560x1600 at 339 ppi for the 8.9" and under the hood are quad-core Snapdragon 800 processors running at 2.2GHz. Amazon boasts that they are the only company offering clock speeds above 2GHz.
In addition, the company has dropped the weight of the larger tablet to 13.2 ounces, 34 percent lighter than the second-generation Kindle Fires. The tablets will launch with Fire OS 3.0, which upgrades and improves on many of Amazon's popular features such as X-Ray, Cloud Collections and Goodreads. The company says battery life is much improved, as well, with up to 11 hours of mixed use, and 17 hours of reading.
Amazon has added dual stereo speakers with
Dolby Digital Plus
audio and virtual 5.1 multi-channel
surround sound
, and dual cameras, 2MP/8MP with
1080p
video recording capability.
"It's been just two years since we introduced the first Kindle Fire, and the team is innovating at an unbelievable speed,"
said Jeff Bezos, Amazon.com Founder and CEO.
"2.2 GHz processor, 339 ppi display, new 34% lighter design, Fire OS 3.0, and new exclusive features like the Mayday button, X-Ray for Music, Second Screen, and Prime Instant Video downloads. We've worked hard to pack this much hardware, innovation, and customer obsession into these prices."
The new Mayday feature is an exciting innovation, as well. By hitting the "Mayday button" you are connected to an Amazon expert in under 15 seconds who can remotely guide you through any hardware or software question you may have, 24/7/365, free of charge.
Available today for pre-order, the HDX 7 starts at $229, with a 4G version available for $100 more. The HDX 8.9 starts at $379. The HDX 7 will start shipping on October 18th and the larger model will ship on November 7th.