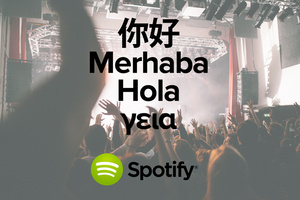 Spotify
has expanded to Argentina, Greece, Turkey and Taiwan, meaning the platform is now available in 32 nations.
The music
streaming
company first expanded to Asia in April with releases in Singapore, Hong Kong and Malaysia, and Taiwan will play a big part in the expansion to the "Mandarin pop" industry.
Desktop streaming in the nation is free and premium (unlimited/mobile play) will cost $4.99 (NT$149), half of what it costs in the U.S. and other countries.
Adds
Spotify:
"We're delighted to announce that Spotify is available in Argentina, Taiwan, Greece and Turkey starting today. There are millions of songs on Spotify – from old favourites to the latest hits. Just hit play to stream anything you like!"