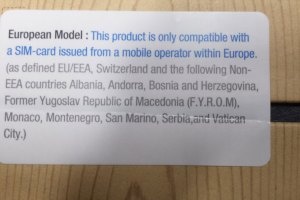 Samsung
has confirmed
that they have region-locked the
Galaxy Note
3 phablet, an extremely restrictive practice.
Being region-locked means buyers in Europe will not be able to use an American SIM when they travel (or vice versa, of course) and will have to stick with Wi-Fi or pay roaming fees.
UK retailer Clove first brought the fact to light, before Samsung confirmed the practice. Clove posted:
"If you travel internationally (outside Europe) and usually insert a local SIM card when in those countries, the Note 3 will NOT be able to use the local network. It will lose all mobile connectivity with the exception of emergency calls. For example, if you travel to the USA and insert a SIM card issued in the USA, you will not be able to use the Note 3 for any voice calls, text messages and mobile data connection. It will work via a WiFi connectivity only."
Without a doubt the move is a black mark for Samsung, as there is no consumer-friendly reason to ever region lock a device, especially an unlocked one on the
GSM
standard.