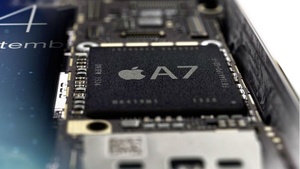 According to Korean daily Hankyung,
Apple
is going to cut down Samsung's share of building the upcoming A8 chip used in the future iPhone 6 and future iPads.
Supposedly,
most of the manufacturing
will now be done by Taiwan Semiconductor Manufacturing Co. (TSMC), with the company to be responsible for up to 70 percent, with the rest covered by
Samsung
.
Despite years of rumors that Apple is looking to take away share from its biggest rival, that so far has not come to fruition.
Samsung was the main manufacturer of the new A7 64-bit processor, and is the only company that can easily fulfill full Apple orders.
Apple signed the deal with TSMC in June.