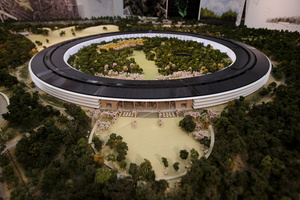 The
Mercury News
has posted some pictures of a model of Apple's upcoming 'spaceship' campus.
Apple
has dubbed the building "Campus 2," and it is almost one mile in circumference with 3.1 million square feet.
The location will house an Office, Research and Development Building, a 1,000 seat Corporate Auditorium, a Corporate Fitness Center, 300,000 feet of Research Facilities, a Central Plant, a 150-acre interior courtyard and be home to 12,000 employees.
Located on a 175-acre plot of land bounded by North Wolfe Road and East Homestead Road, the structure will be completed in 2015 if the Cupertino City Council accepts the proposal on Oct. 15.