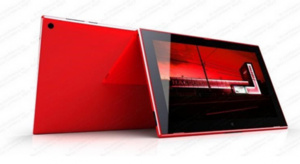 Multiple
sources
have reported that Nokia's oft-rumored 'Sirius' tablet is on its way, with a launch date set for the third week of November.
Sirius will officially be known as the
Lumia
2520, and will be the rumored 10.1-inch Windows RT 8.1 device that has been spoken about for months now.
As is now standard,
Nokia
will price itself out of the market at $499, as there will be very little excitement for a Windows RT device that is priced the same as the latest iPad.
Although unconfirmed, it appears the device will have a
1080p
display with ClearBlack polarizer technology, a quad-core Qualcomm 8974 (
ARM
)
chipset
, 32GB internal storage and 2GB
RAM
. On the software side, Nokia has had included some unique features such as "StoryTeller," allowing you to create full stories from your photos.
As for the camera, the device is expected to pack a 6.7MP camera with a Carl Zeiss lens.
At launch, the device will be available through Verizon, and will include
LTE
data support.